Mica's profile
Mica
She/Hungry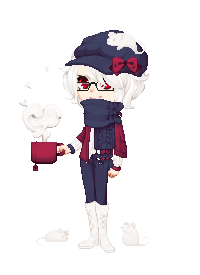 About
Hello! I come from the Philippines. It is hot and humid here and the weather's terrible but our food is legit!

I draw stuff! You may have seen some of 'em on the site somewhere during events! ;)
(PM me for commissions! *o*)

I love avatar sites, so here I am.


I have a wonderful significant other of godknowshowmanyyears and three older sisters. You might find one of them here! I spend most of my time attempting to adult, play video games or watch anime and TV series' and being a general nerd.

I'm super anxious and nervous around people. I believe the personality of a person is the most important thing and the exterior or sexual orientation is... really quite irrelevant to me. If you're a jerk it's because you're a jerk not because you're a beautiful unicorn. D:<

My current obsessions are Overwatch, League of Legends and Don't Starve! :D

Hey, if I happen to owe you art via art trade or freebie/prize, please don't hesitate to nag me if it's been quite a while! Or just a friendly reminder! My memory is utter garbage!