Faust Sheep's profile
Faust Sheep
he/him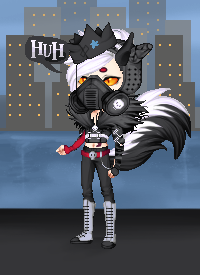 About
Hey, welcome to the profile of Faust Sheep.

I'm actually not that good with this stuff so let's hope I do not crash and burn.

I'm small and gay and tend to be terrified of most people. I like cats, own two, and that is not enough. I need more. I'm an avid collector of books and video games. I have read and played most I own. I'm an author want to be/ trying to be/ hope to be. I just need to finish something and get it published. I draw mostly as a hobby, but I would like to illustrate my own books and comics. I'd also like to do my own art for the video games I plan to make in the future. I'm ambitious, but a Ravenclaw. I'm kind of shy for the most part.
Feel free to chat with or friend me. But be warned I can be a little nippy.

For offsite chatting ask about my Pesterchum. I do, however, only give it to people I trust or feel comfortable with.
Likes
cats, men, books, art, video games, mange, manhwa, comics, nerd stuff
Dislikes
Boy, you do not want to open that can of worms. I have way too many pet peeves.
Hobbies
reading, writing, drawing, playing video games