Synth's profile
Synth
he/they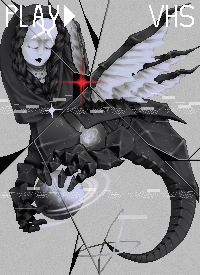 About
aquarius ♒️ genderqueer ⚧ insane
hi! I'm Synth.
I like to draw and chat to
myself in the undercurrent.
I'm not super friendly but I try to be nice :)


I'm 29 and lucky enough to be married to my best friend and love of my life. We have a little chihuahua named Stevie. We're currently in a rough patch but things are coming along and should be good soon!

I got started on avatar sites with Gaia when I was a teenager. I quickly moved to smaller sites and Solia was my primary home for many years. I've been away from the internet for some time but am glad to have found a new hangout on Voltra <3

I'm autistic, and have brain damage/trauma from an abusive childhood. The result is a pretty weird adult. If I say something that upsets or disturbs you it likely wasn't on purpose. Please feel free to message me to clear things up if this happens!
February 2021
February 2021
January 2020
Likes
Fallout, Pokemon, eating, Korean variety shows
Dislikes
Work, socializing in person, mean or rude people
Hobbies
Drawing, video games, chilling with my bubby <3